CLAIR DE LUNE an exceptional private houseboat to discover Canal du Midi
6 Nights Classic cruise
Beziers >> Homps
ONLY ON ALL INCLUSIVE CLASSIC CRUISE 6 NIGHTS
20% OFF PER CHARTER –  DEPOSIT BY : April 30th 2018
Date : 20, 27 May 2018
Date  : 17, 24  June 2018
Date : 12, 19 August 2018
book this trip : support@france-privatetravels.com
3696€/PERSON (based on 6 persons sharing the trip) instead of 4616€/Person
Net fare
 Sunday, Day 1 Beziers
Guests are met at Beziers or Narbonne and transferred by private chauffeured minibus to Clair de Lune. The crew welcomes you on board with a glass of chilled champagne and canapés. Time for a short cruise before your first dinner on board.
Monday, Day 2 Colombier to Capestang
The morning cruise you can enjoy the sundeck or perhaps cycle or walk at your leisure on banks of the Canal du midi, after lunch a private wine-tasting and visit to the Oppidum d'Enserune, a two-thousand year old hilltop archeological city-site located near of the mooring,
Tuesday, Day 3 Capestang to La croisade
After breakfast you cruise to La Croisade, lunch will be on board, on the afternoon visit, we take an excursion out to Pezenas, a delightful village, mostly known for its associations with the famous French playwright Molière, who is said to have written many plays while staying there. You will take the dinner on board
Wednesday, Day 4 La Croisade to Le Somail
After breakfast, we drive you to the beautiful city of Narbonne, a Roman Mediterranean capital where the Visigoth monarchs once lived. Enjoy the Archbishop's Palace and Roman Horreum and explore the indoor market – les Halles de Narbonnes – at the hub of this bustling town where you will have time to shop or simply absorb the relaxed atmosphere. Then we enjoy lunch in a typical French restaurant close to Les Halles. After returning to Clair de Lune, a relaxing afternoon cruise to Le Somail. Dinner on board.
Thursday, Day 5 Le Somail to Argens-Minervois
In the morning we cruise to Argens- Minervois, After lunch, we take you to the impressive village of Minerve, boasting a 12th century Cathar fort surrounded by deep limestone gorges. Besieged by Simon de Montfort in 1210, its hilltop location affords spectacular views. A fascinating recreation in miniature of the bloodthirsty Cathar rebellion and a small museum complete this intriguing visit. On the way back to the hotel barge we visit a producer of fine Minervois wines, Domaine Massamier La Mignarde, for a private tasting. Dinner on board.
Friday, Day 5 Argens-Minervois to Homps
This morning you embark for the last cruise to Homps one of the main commercial harbor in the old times, We will pass 4 Locks, Lunch ashore in the Homps restaurant on the banks of the Canal du Midi,
After lunch, your guide will accompany you to the restored and most complete medieval fortified city in existence today, dating back to the Gallo Roman era. With its 52 watchtowers, portcullis and extraordinary repertoire of defences, it resisted the many armies that tried to storm this Camelot setting. You can walk the ramparts and step back in time. Last dinner on board,
Saturday, Homps
After breakfast, guests are transferred by private chauffeured minibus to their choice of location in Narbonne.
*This is a sample itinerary and is subject to change. On alternate weeks the cruise is in the reverse direction.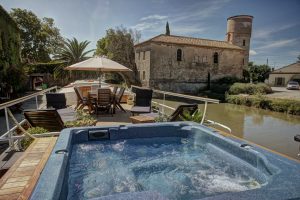 What's included with the cruise
Round trip transfers in air-conditioned minibus from prearranged meeting point to the Clair de
Lune and return after the barge cruise.
Accommodation for up to 6 passengers for 6 nights in 3
double staterooms with en-suite bathrooms.
All meals including morning coffee and afternoon tea a fine
selection of Languedoc wines and drinks from the open bar.
All proposed excursions with our guide in the private air
conditioned minibus, including entrance frees.
Use of on-board mountain bikes and Jacuzzi.
Champagne welcome aboard.
Not included
Travel and cancellation insurance; ballooning and other
activities not stipulated;
Supplemental champagne, vintage wines and fine liqueurs; gratuities for the
crew; and personal expenses such as use of the cellular telephone.
Gratuities for the crew; suggested 5 – 7 % for the crew to be
paid in equivalent euros to the amount of the cruise
From 2 to 20 persons possible for this tour. Do not hesitate to ask us for a quote.
Day 1    Carcassonne
In the late morning, meet you driver-guide at Carcassonne's train station (optional: other meeting point on request.
Lunch in the medieval city. Then private guided tour to discover the Counts castle, battlements, the St Nazaire cathedral, etc.)
Accommodation in a 4* hotel in the medieval city. Dinner on your own
Day2   Minerve & Canal du Midi
Meet your driver-guide and go toward the 4 castles of Lastours. From a point of view over the castle, let your guide tell you the dramatic story of this Cathar site.
Then, discover the "Truffle house". Through a visit know everything about the black diamond (culture, commercialisation, etc…) and finish the visit with a gastronomic touch.
Driving along the charming roads of Minervois region, reach Minerve, one of the most beautiful villages in France. Regional lunch. The city was marked by the Crusade against the Cathars.
To conclude the day, meet a winegrower and enjoy a Minervois wines tasting. Drive back to Carcassonne. Overnight in a 4* hotel, dinner on your own.
Day 3 :  Cathar Castles
Drive along the Aude Valley to reach to reach the so-called "citadels of Vertigo" Built on a rocky peak Quéribus overhangs the plain of the Roussillon, the Corbières Mountains, Cucugnan and Maury. Visit the castle which was the last place to resist during the crusade. Regional lunch in Cucugnan.
Then, with your guide, drive to Peyrepertuse fortress to listen to its story. End the day with the Maury naturally sweet wine tasting. Drive back to Carcassonne for the overnight.
Day 4  : Mirepoix – Montségur
On the way, first stop in Mirepoix, a fortified city that kept its medieval galleries and its covered market. Then, visit Montségur Castle, famous for the Cathar Crusade. Regional lunch.
In Puivert castle discover the magnificent medieval sculptures representing musicians. Drive back to Carcassonne and overnight in the medieval city.
Do not hesitate to ask your expert for a spa treatment at l'hôtel du Château for example.
Day 5:  Fontfroide Abbey
Near Narbonne, visit the Cistercian abbey of Fontfroide. This private abbey is interesting by the mix between the medieval architecture and modern art. Lunch at the abbey restaurant and transport to Narbonne's train station. (other location on request)
End of services
Do not hesitate to ask to your expert to reserve a restaurant 1 or 2 stars of the region, for dinner.
Rates are subject to change based on the number of participants and dates of arrival.
Some examples of possible hotels in Carcassonne: Hôtel le Donjon 4 *, Hôtel du Chateau 4 *, Hôtel de la Cité in 5 * Mgallery ( with surcharge)
Price includes:
– Accommodation in a 4* hotel in B&B
– A driver-guide or a bus and a private guide (depending on the number of participants).
– Transport in minibus or bus including travel costs
– Lunches (3 dishes and a coffee)
– Entrance fees for the monuments mentioned in the program
Price does not include:
– Drinks
– Dinners
– Personal expenses
– Cancellation insurance (contact us)
– What is not mentioned in the program
Prices may change according to the number of participants and the season, subject to availability at time of booking.